Clay Davis
President & CEO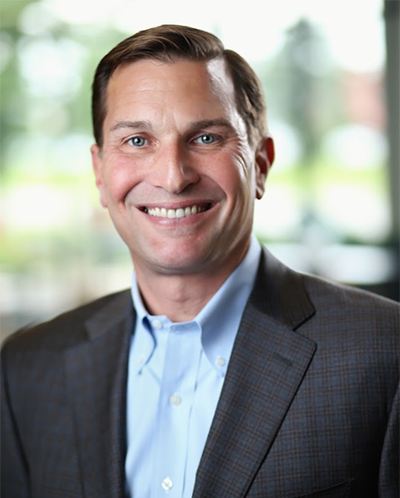 Clay Davis joined Stouse in February 2019 as President & CEO. Prior to Stouse, Clay served in a variety of executive leadership roles in the consumer products, packaging, and printing industries. He brings a passion for building high performance teams that focus on driving innovation and solutions that create value for our customers and stakeholders.
Clay holds a Bachelor of Science degree in Economics from Miami University. In his time away from work, he enjoys spending time with his wife, three children, and three dogs. He also enjoys reading, golf, tennis, skiing, travel, cooking and eating great food. As a proud native Texan, Clay will acknowledge that his new hometown of Kansas City plays a strong BBQ game, but 'has some catching up to do.'
Warren Vann joined Stouse in October 2022 as the Chief Financial Officer and Chief Operating Officer. Prior to Stouse, Warren served in several executive finance and operational roles in distribution and manufacturing entities that operated globally and multi-nationally. Warren has a demonstrated track record in transforming businesses to drive and create enterprise value that led to successful exits for shareholders and stakeholders.
Warren has a Bachelor of Business Administration degree in Accounting from Cameron University. While away from work, he enjoys spending time with his wife and family and their two dogs. He loves going outdoors to play golf and tennis, or simply going for a hike or a bike ride. Warren is a lifelong Sooner supporter and fan of the University of Oklahoma athletic teams. He rarely misses his Sooners play during football season and is anxiously waiting for them to win their next national championship.
Steve Pankau
Chief Information Officer
Steve Pankau joined Stouse in April of 2020 as Chief Information Officer. Prior to Stouse, Steve served in senior IT leadership roles for private-equity organizations in a variety of industries including packaging and printing. While he considers himself a back-end IT infrastructure guy, deep down Steve is passionate about using technology to transform and optimize business processes.
Steve has a Bachelor of Science degree in Management of Information Systems from Milwaukee School of Engineering and an MBA from Illinois Institute of Technology. Steve, his wife, and two children are Chicago-area natives but felt based on the Chiefs recent success it was time to consider letting the Bears go and relocate. In his free time, Steve is an avid DIYer and enjoys any opportunity he can get to go outside.
Clay Westbrook
Vice President of Sales
Clay Westbrook joined Stouse in July 2021 as Vice President of Sales. Prior to Stouse, Clay spent the majority of his career in Sales roles working with national restaurant chains in the foodservice packaging industry. Clay brings experience with navigating large and complex organizations and enjoys bringing a creative approach to growing sales.
Clay earned a Bachelor of Science degree in Business Marketing from Wingate University, where he also played for the University's lacrosse team. He resides in South Carolina with his wife, their daughter, and golden retriever. In his free time, he enjoys spending time with family and friends, traveling, college football, enjoying new food, and live music.
Sarah Hibit
Vice President of Operations
Sarah Hibit joined Stouse in 2009 as a Financial Analyst after beginning her career in the telecommunications industry. For ten years she took on increasing responsibility within the Finance organization, focusing on efficiency and profitability in operational processes. In April 2019 Sarah was named Vice President of Operations. She brings an analytical, data-driven perspective to the Operations team.
Sarah earned her Bachelor of Science degree in Accounting from Truman State University, where she competed for the University's cross country and track teams. She also holds an MBA from Rockhurst University. These days, Sarah is happy to find time for a run amid the controlled chaos of raising two young children with her husband. After 15 years in the Kansas City area, she considers herself a naturalized Kansas Citian – unless the Cardinals are in town!
Stacie Thies
Vice President of Customer Experience
Stacie joined Stouse in 2003 as an Account Manager. She held several different positions in the Customer Service department, including Customer Service Manager. She became Vice President of Customer Experience in April 2019. Stacie appreciates the advancement opportunities that Stouse has provided and hopes to help others follow a similar path.
Stacie holds a Bachelor of Arts degree from Dordt College with a double major in Business Administration and Psychology. She completed her Master's in Education at the University of Saint Mary. Stacie has two sons and is enjoying watching them become responsible adults and start their own families. In her spare time, Stacie likes hiking, kayaking, gardening, and cooking. When she gets sidetracked by other summer activities and forgets to water her garden, she enjoys going to the farmers market for fresh produce.
Jennifer Hoyt
Director of Marketing
Jennifer Hoyt joined Stouse in October 2010 in marketing and took on increasing responsibilities within the organization, focusing on brand development, communications, and improving user experience with eCommerce websites. In November 2022, she took on the role of Director of Marketing. Prior to Stouse, Jennifer worked in a variety of project and marketing management roles specifically in the printing and graphics industry.
Jennifer earned a Bachelor of Science degree in Business Administration from the University of Kansas and an MBA from Rockhurst University. Outside of work, she loves spending time with her husband, two adult children, and her dog. She also enjoys photography, baking, and watching college football and basketball (RCJH!). As a native Kansas Citian, she always cheers on the Royals and Chiefs – no matter what their records.